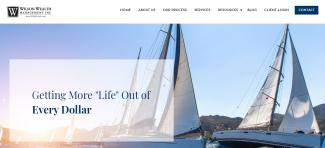 Introduction to Our New Website
We are pleased to announce the launch of our brand new website! After months of hard work and dedication, we are pleased to announce the official launch on December 1st, 2018.
Our goal with this new website is to provide our clients an easier way to access their financial accounts in one place and also allow prospective clients the chance to get to know the value we provide. The website is interactive and gives better access to About Us, Our Process, Client Login, and the Services we provide. We hope you are able to take advantage of our new website and use it as the financial hub that allows you to gain a clearer view of where you stand financially. Below you will find a few screenshots in order to assist you with navigating around on our new site. Please feel free to reach out with any questions as you go about exploring our new website.
This is the landing page that will appear when you type

wwmutah.com

into the URL bar.
For current clients, this next page will be your financial hub. From your recent account statements to financial planning documents, it can all be found via our "

Client Login

" button at the top of the website in the navigational menu.
Of those three options listed above, the "

Client Center

" is the one that you will be using as your main financial hub. Below is a picture of what that "

Client Center

" login screen looks like. This is where you will enter the login credentials that we will have emailed to you if you indicated your interest in viewing your accounts online.
Our blog is a good resource for you to enhance your financial knowledge, get updates on the markets and learn more about what Wilson Wealth Management

. You can access our blog from the navigational menu on top of our website. This is one way we will send you timely information that we believe is relevant. If we have your email on file, you will receive a notice when a blog article is posted, along with a link to take you directly to the article or posting. This is how you received this message.
We are always looking for ways to enhance our service to you and the client experience we provide. We hope you enjoy the new expanded services and access and welcome any ideas and requests you may have. You will find easy access to brokerage statements, account performance, and research through our website and the portals, so please let up help you set up your login learn how to use it to your advantage.